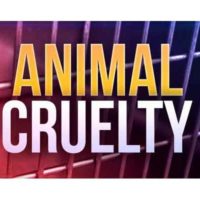 October 12, 2020
By News Director Jared Atha
An arrest warrant has been issued for a Weatherford man after two dogs were found to allegedly be neglected at his home.
According to a probable cause affidavit, 60-year-old Billy D. Spillman is wanted for the crime after being charged in Custer County District Court with cruelty to animals – a felony, last week.
The report stated that a deputy with the Custer County Sheriff's Office was dispatched on October 3 to the home of the suspect, after a neighbor had reported that she could see one of the dogs having convulsions. When the deputy arrived he was unable to make contact with the home owner, but did find one dog to be very "boney" and could visibly see the dog's ribs. The deputy also observed the dog to have patches of hair that was more fuller than the rest of the body.
A short time later, with assistance from the Weatherford Police Department, the deputy located the other dog that did appear to be in distress. The deputy reported that the dog had mucus around its mouth, but was still breathing.
The court document stated that the dogs were transported to a local veterinarian however the second dog that was found had passed away.
The veterinarian would tell the deputy that he suspected the dog may have had rabies, however test results from the Oklahoma Health Department are still pending.