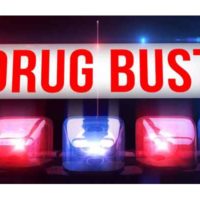 October 5, 2020
By News Director Jared Atha
A large amount of illegal drugs and drug paraphernalia were found in a Texas man's vehicle after a traffic stop in Beckham County.
According to a probable cause affidavit, 31-year-old Jean Carlo Sernaque or San Antonio, Texas was pulled over by a trooper with the Oklahoma Highway Patrol on east bound Interstate 40 for speeding near mile marker 10 on September 23. While the trooper was filling out a written warning, he reported that he noticed indicators of criminal activity from both the suspect and a woman passenger in the vehicle.
After receiving consent to search the vehicle from Sernaque, the trooper would find a blue suitcase containing 99 hand rolled marijuana cigarettes, 228 THC cartridges, 100 packages of THC gummies, two jars of marijuana, and various other drug paraphernalia including a vacuum sealing machine and a digital scale.
The woman passenger along with two juveniles were released, however Sernaque was arrested and booked into the Beckham Couty Jail.
Sernaque was charged with unlawful possession of a controlled drug with the intent to distribute and unlawful possession of drug paraphernalia.