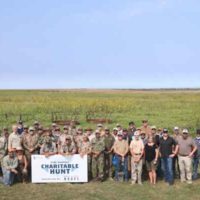 October 1, 2020
By News Director Jared Atha
Over $70,000 was raised at the first-ever charitable hunt recently hosted by the Southwestern Oklahoma State University Foundation.
The university says the fundraising activity drew 60 participants and the money raised will be used to establish SWOSU's first-ever endowment reserved for the benefit of the Department of Parks & Recreation Management. SWOSU seeks to facilitate the development of professionals in the fields of conservation management, parks and recreation management, sport management, parks law enforcement and wildland fire management.
Longtime SWOSU benefactors Kandi and Rick Nagel of Norman served as the hunt's presenting sponsor and major underwriters. Kandi is a 1998 SWOSU alumnae and past president of the SWOSU Alumni Association.
This unique fundraising activity was facilitated by BlackOak Farms in Cotton County, a full-service bird hunting operation that is integrated with traditional agriculture practices of farming and ranching.
Participants in the event were treated to a cocktail hour generously furnished by Butcher's Wine & Spirits and Jett Distributing.
Jarred Jones and First National Bank & Trust Company provided participants with an incredibly delicious supper of brisket, smoked sausage, pulled pork, and a wide variety of sides and accompaniments.
Corky and Missy Heard and Heard United Country Auction & Real Estate led the participants in a rousing, fun live auction and fund-a-need exercise.
The SWOSU Charitable Hunt was organized by the SWOSU Foundation, Inc.