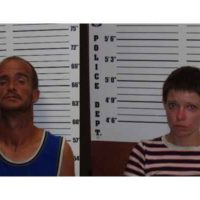 October 2, 2020
By News Director Jared Atha
A couple of panhandlers from Amarillo, Texas were arrested in Beckham County recently after allegedly being in possession of a stolen vehicle.
According to a probable cause affidavit, Elk City police were dispatched to the Hutch's convenience store on East 7th Street on September 21 to a report of a possibly intoxicated female who was stumbling in the roadway. When an officer arrived, he found 40-year-old Brandon Gregory Barclay and 31-year-old Cassandra Marie Rubio, both of Amarillo sitting on the corner, panhandling.
After speaking with the couple, the couple told the officer that they were on their way to Altus from Amarillo but had run out of money. The officer noted that the woman appeared to be under the influence of illegal narcotics based on her behavior. The officer advised the couple that they needed to leave the area or risk being arrested. The male subject cooperated and told the officer that he would take the woman to their car in the Walmart parking lot.
After the couple left the area, the officer reported that he had drove through the Walmart parking lot and observed the male subject walking away from an SUV that had a paper dealer tag, and a busted out rear passenger side window. After inspecting the vehicle he located the female subject to be in the front passenger seat, and a large rock in the rear passenger floorboard. After running the vehicle's VIN number, dispatch would tell the officer that the vehicle had been reported stolen out of Amarillo.
Both Barclay and Rubio were arrested a short time later and each received a felony charge of possession of a stolen vehicle.