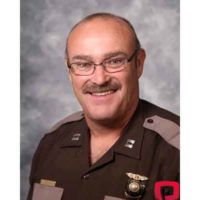 September 29, 2020
By News Director Jared Atha
An Oklahoma Highway Patrolman with western Oklahoma ties passed away recently due to Covid-19.
According to a press release from the Oklahoma Highway Patrol, Captain Jeffery W. Sewell passed away at the Texoma Medical Center in Denison, Texas on September 26.
Captain Sewell was a graduate of the 43rd Oklahoma Highway Patrol Academy in 1988, beginning his career as a trooper in Troop H which is headquartered in Clinton, and patrolled Roger Mills County.
In the late Captain's obituary, it indicated that Sewell still has relatives in the Clinton area.
In 1989, he was transferred to Troop E headquartered in Durant, spending 10 years there and being promoted to Lieutenant in 1999. In 2006, he promoted to Captain in Troop F in Ardmore, and continued his service as a Captain in Troop D in McAlester, Troop E, and Troop XC, Indian Nation Turnpike, McAlester. In the summer of 2020, he began assignment as Captain of the Officer Assistance Program.
During his career, he participated in numerous additional duty opportunities such as the Police Corp in 2004, Emergency Response Team, DARE, TAC Supervisor of the 55th Academy, Special Olympics, Polar Plunge and Tip-A-Cop. He was involved in many other community projects and organizations. However, his greatest passion was his annual participation with Cadet Lawman, which took place at Clinton-Sherman Air Force Base in Burns Flat until being relocated in 2018. Cadet Lawman is a week long summer camp that gives selected high school seniors-to-be a first-hand taste of what it takes to be a trooper. He was able to use his influence and leadership skills on the thousands of teenagers that participated over the years.