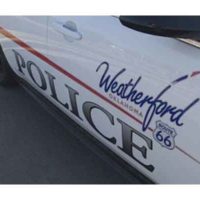 September 28, 2020
By News Director Jared Atha
A Weatherford man with a history of defying officers was arrested and received a felony charge recently after he allegedly assaulted a Weatherford Police Officer.
According to a probable cause affidavit, 50-year-old Jason Dee Williamson was arrested on September 18 when police were dispatched to a residence in the 300 block of East Arapaho Drive in Weatherford to a report of a verbal argument between two individuals. It was later determined that the defendant was not involved in the argument, however when officers arrived they found a large amount of blood leading into the front door of the residence. Officers were able to talk to Williamson who appeared to be injured, however it was written that the defendant was yelling and was extremely irate with officers. It was also noted that Williamson was possibly extremely intoxicated.
The report stated that officers had to physically restrain Williamson on multiple occasions from going back inside the residence, and that the defendant refused to go to the hospital for his injuries. After receiving a bandage on his hand for the injury, Williamson continued to attempt to return to the home and continued to remain combative in the process. This prompted the officers to place Williamson under arrest. While being escorted to a police car, the affidavit reported that Williamson head butted one of the officers. It went on to say while being booked into the Custer County Jail, Williamson began slamming his head against the book-in ledge and would kick the officer in the leg.
It was noted that Williamson has two prior charges for obstruction, both from earlier this year.
Williamson was formally charged with one felony count of assault and battery on a police officer on September 21.
A preliminary hearing conference for Williamson is scheduled in Custer County District Court for November 6.