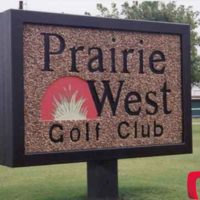 September 28, 2020
By News Director Jared Atha
A Weatherford woman was arrested Friday after allegedly taking a car from the Weatherford Regional Hospital and taking it on a short joy ride that ended near a golf course.
According to the booking report from the Weatherford Police Department, 26-year-old Michelle Lee Warledo was taken into custody just after noon on Friday near the Prairie West Golf Club after stealing the parked car from the hospital parking lot, shortly after being discharged from the facility. According to the report, the suspect's journey started at the hospital where she went northbound on Deer Creek Road, departed the road and crashed through a cable barrier with the car's front bumper impacting private property on Hook Drive. The vehicle would continue southbound through private property near the golf course until it struck a pole holding a cable barrier with its front bumper. This caused the vehicle to become high centered on top of the cable.
Authorities would arrest Warledo for driving under the influence and unauthorized use of a motor vehicle.
During the time of the incident, a golf tournament was taking place. Fortunately nobody was injured during the incident.
Charges against Warledo are pending as of press time.