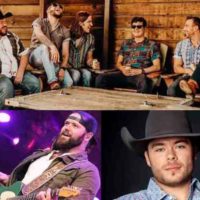 September 23, 2020
By News Director Jared Atha
A popular concert event that takes place annually at Southwestern Oklahoma State has been postponed again due to the pandemic.
Officials announced recently that SWOSUpalooza, the concert event that typically takes place during the spring semester, has been postponed a second time. Organizers say the concert will now take place on Thursday, March 25, 2021. SWOSUpalooza was scheduled for October 22.
However there is good news: The original lineup that includes Flatland Cavalry, Mike Ryan and Triston Marez will still perform at the concert, and tickets already purchased will be honored at the March 25 concert.
The concert, which is sponsored by the Student Government Association and the Panorama Series, still has tickets available. Brian Adler, chair of the co-sponsoring Panorama Committee says tickets can still be purchased online at stubwire.com, or in the SWOSU Public Relations and Marketing Office in Room 205 of the Hays Administration Building. Tickets are $15 in advance and $20 on the day of the show.