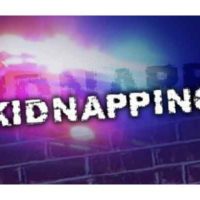 September 22, 2020
By News Director Jared Atha
A man is facing serious charges and jail time after being handed a kidnapping charge in Custer County recently.
Details are limited but according to court documents the incident took place on September 5 when 25-year-old Dravon Lenny Lollar allegedly forcibly seized a woman and confined her against her will in a home located west of Clinton.
The document went on to say that Lollar was in possession of a .22 caliber rifle while committing the felony and had pointed the weapon at the victim.
Lollar is also accused of intentionally preventing the woman from placing an emergency phone call by taking her phone away from her. Finally the report stated that Lollar allegedly discharged the rifle at the skirting of a trailer home.
Lollar was charged in Custer County District Court with kidnapping, possession of a firearm during the commission of a felony, feloniously pointing a firearm, preventing an emergency phone call, and discharging a firearm in a public place.
A preliminary hearing conference for Lollar is scheduled for October 9.