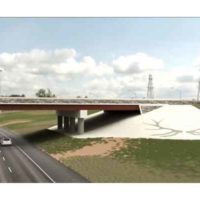 September 17, 2020
By News Director Jared Atha
Oklahoma's first divergent diamond interchange bridge project, which is located in Elk City, has been completed and is open to the public.
According to Oklahoma Department of Transportation Division 5 Engineer Brent Almquist, the 15 month project that saw the replacement of the State Highway 6 bridges over Interstate 40 opened to the public Thursday morning.
The $28 million project was paid for by federal, state, and city governments with the City of Elk City contributing $250,000 towards the project that was used towards the aesthetics of the project that include bronze elk statues and other decorative elements on and around the bridges.
Almquist says Division 5 Construction Engineer Will Snipes combined the project with a bridge project in Sayre. Almquist says coupled with that project and an awarded grant, the price tag was much more affordable for the state.
Almquist says the bridge project in Sayre is over 50% complete.