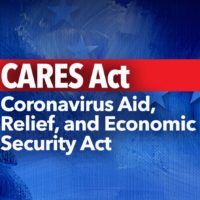 September 11, 2020
By News Director Jared Atha
Elk City officials are preparing to utilize CARES Act funding.
During the latest meeting of the Elk City Commissioners on Tuesday night, the commission approved a resolution concerning funding related to the CARES Act and the coronavirus relief fund.
City Manager Tom Ivester says this was a resolution that was required to be passed before the city could apply and receive the allocated funds, which for the City of Elk City totaled at just over $895,000.
Later in the meeting, the commission approved two CARES Act related purchases that include a 2020 Wheeled Coach ambulance in the amount of just over $279,000 and a portable ventilator for just over $14,000. Ivester says the rest of the funds would be used to support the city payroll.
City Treasurer Lisa Church says the city could receive notice of exactly how much funding from the CARES Act the city will receive by early next week.