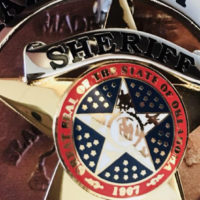 September 11, 2020
By News Director Jared Atha
An Arizona woman lead a Beckham County Sheriff's Deputy on a high speed pursuit recently with juveniles allegedly in the car.
According to a probable cause affidavit, the incident took place on August 29 when the deputy observed a car going 95 mph in a 75 mph zone on east bound Interstate 40 in Beckham County. When the deputy attempted to conduct a traffic stop, the report stated that the car would swerve through traffic at consistent speeds ranging from 90 mph to 80 mph.
The affidavit stated that the car would pull to the shoulder after a six mile pursuit. The deputy reported that he exited his vehicle, drew his weapon, and gave verbal commands to the driver to exit the vehicle. The driver, later identified to be 30-year-old Danielle Eubanks of Buckeye, Arizona, would eventually comply with the deputy's orders, but was reported to be very erratic and would scream at the deputy on multiple occasions. During the arresting process she would allegedly tell the deputy that she did not know where she was, she did not know what was going on, and would offer the deputy money.
Later an Oklahoma Highway Patrolman would arrive to assist the deputy. The report stated that the patrolman would discover three juveniles in the suspect's car, the youngest being approximately one year old. The baby was in a car seat, however was not strapped in, and the car seat was not buckled to the vehicle. The other two children appeared to be unbuckled as well, able to roam freely in the back seat.
Eubanks was arrested and transported to the Beckham County Detention Center where it was discovered that she was in possession of a glass pipe, and had allegedly confessed to smoking methamphetamine, drinking alcohol, smoking marijuana, and taking prescribed medication within the last 24 hours of her arrest.
Eubanks was charged with eluding or attempting to elude a police officer, child endangerment, and unlawful possession of drug paraphernalia.