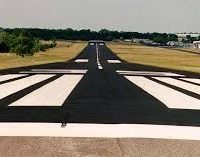 September 10, 2020
By News Director Jared Atha
Congressman Frank Lucas of Cheyenne announced Wednesday that seven airports across Oklahoma's Third District will receive over $7.5 million in Federal Aviation Administration grants for improvements to airport infrastructure.
In a press release from Lucas' office, the Congressman says a total of seven airports, including three local airports, will receive funding.
Airports in the area receiving those funds include the Carnegie Municipal Airport in Caddo County receiving $266,666 to install perimeter fencing and taxiway lighting, The Hollis Municipal Airport in Harmon County receiving $816,666 to rehabilitate an apron, taxiway and reconfigure existing taxiway, and the Thomas Municipal Airport in Custer County receiving $628,590 to construct an apron and taxiway.
According to the press release, the grant funding, awarded by the U.S. Department of Transportation, was made available through annual appropriations as well as the CARES Act.