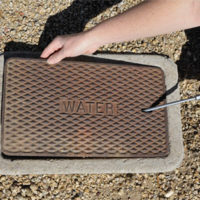 September 10, 2020
By News Director Jared Atha
Elk City Citizens have posted concerns of their water bill on social media, and the city has responded.
According to City Manager Tom Ivester, after a September 3 Facebook post regarding the installation of radio read water meters, some citizens responded with their concerns of alleged spikes in their water bills. During the latest city commissioners proceedings on Tuesday night, Ivester addressed the issue saying the city has launched an investigation into the concerns. He says the city had cataloged the comments that expressed concern towards their water bill and investigated even further. Ivester presented those results to the commission.
Ivester went on to say two of the complaints had dead meters, or a meter that was not working at all. He says in these instances the minimum charge is placed on the account. Therefore when new meters were installed the actual water consumption was recorded. Ivester says one meter was indeed misread and the bill was adjusted, and says another meter looks suspect and remains under investigation.
As part of the investigation, Ivester says the city requested citizens that have a concern to volunteer to allow a team to do an assessment of the home and the water use. He says the team included members of the Elk City water department and an independent plumber who is not a city employee. Ivester says four citizens volunteered.
Ivester went on to say that another home showed that their water meter was not spinning and a re-read was done and the meter was indeed misread. He says the fourth home had an older water meter and the city will install a new water meter and send the current one for calibration to make sure it was reading correctly.
On a related topic, earlier in the meeting the commission had approved a professional services agreement between the Southwestern Oklahoma Development Authority and the city for digitized mapping and printing of the water system, sewer system, and the storm water drainage system in the amount of $52,500 – a budgeted item. According to Ivester, this map was last updated in 2010.