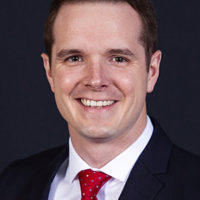 September 4, 2020
By News Director Jared Atha
Garrett King has been named assistant vice president for institutional advancement at Southwestern Oklahoma State University in Weatherford.
In a press release from the university, SWOSU President Dr. Randy L. Beutler said the Regional University System of Oklahoma Regents recently approved the promotion.
King has been serving as assistant to the president and director of institutional advancement. King will continue to oversee SWOSU's private investment and external fundraising efforts. In this capacity, he will also continue to serve as executive director of the SWOSU Foundation, Inc. and its two subsidiaries, the SWOSU Alumni Association and the SWOSU Athletic Association.
Beutler named King as SWOSU's chief advancement officer in late 2014. Since then, the net asset valuation of the Foundation has increased by 27%. Charitable revenues, contributions and commitments to the Foundation have doubled, and the Foundation's donor base has expanded by over 120%. Association volunteer engagement and membership recruitment levels have increased and the Foundation's scholarship support to SWOSU students has risen by 70%. King's financial management of the Foundation has resulted in lower fundraising costs and increased fundraising return-on-investment to SWOSU while facilitating a 65% increase in the value of the average Foundation scholarship awarded.
In other SWOSU news, Southwestern's enrollment for the 2020 fall semester is better than expected.
SWOSU President Randy Beutler said the official number is 4,878 for both the Weatherford and Sayre campuses.
SWOSU had a decrease of 1.6% from the 2019 fall semester but, because of the COVID-19 Pandemic, the university was expecting a larger decrease—possibly anywhere from 5-10% down.