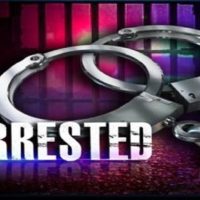 September 2, 2020
By News Director Jared Atha
A Clinton woman was arrested and received a felony charge of aggravated assault and battery after she allegedly punched her grandmother.
According to a probable cause affidavit, Clinton police were dispatched to the home of the 74-year-old victim. When they arrived, police observed several large bruises on her face and her left eye.
During the interview process, the victim told the officer that her granddaughter, 28-year-old Daesha Caldwell had been living in the home without paying bills. When she confronted Caldwell about her lack of payment, the granddaughter allegedly became upset and punched the woman several times.
The victim told police she would develop a severe headache after the incident and had called the Clinton Police Department to send an ambulance. She was eventually transported to Alliance Health Hospital in Clinton.
When officers interviewed Caldwell, the stories didn't match up. According to the report, Caldwell stated that she got into an argument with her grandmother over household goods, and her grandmother had grabbed her and told her she was kicking her out. Caldwell then allegedly admitted to punching her grandmother a couple of times.
Caldwell was arrested and booked into the Clinton City Jail.
A preliminary hearing conference in Custer County District Court has been scheduled for Caldwell on September 25.