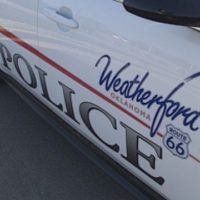 September 1, 2020
By News Director Jared Atha
A Weatherford woman was arrested last month and charged with, among other things, assault and battery on a police officer, after kicking an officer.
According to a probable cause affidavit, 30-year-old Amanda Arnold was arrested after Weatherford police responded to a possible domestic disturbance. When officers arrived they found Arnold arguing with the male resident of the home.
Officers received permission to enter the home from the homeowner in order to follow Arnold for questioning. Arnold would allegedly tell police that she had a pipe. That's when police saw Arnold pull a glass pipe from her pocket. Later, police would observe what he believed to be methamphetamine in the pipe. When the officer told Arnold to go back outside, she refused and tried to shut the door on the officer instead.
However the officer prevented the door from closing and pursued Arnold to a bedroom due to the glass pipe. The suspect allegedly put the pipe down and proceeded to tell the officer that the pipe wasn't hers.
While attempting to detain Arnold, the report stated that she began to aggressively wave her hands in his face. While receiving assistance from another officer to get Arnold into handcuffs, Arnold would allegedly kick one of the officer in the shin.
Court records would show offices that Arnold had an active trespass order against her for the same address that was filed just three days prior to the event.
Arnold was transported to the Weatherford Police Department, and later transported to the Custer County Jail.
Along with the felony assault charge, she was also charged with possession of a controlled dangerous substance, unlawful possession of drug paraphernalia, and trespassing.
A preliminary hearing conference has been scheduled for Arnold on September 25.