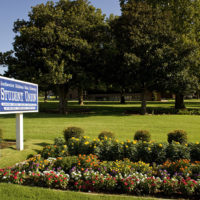 August 25, 2020
By News Director Jared Atha
Southwestern Oklahoma State University's annual Organizational Fair in Weatherford is still taking place but with a few minor changes.
According to campus officials the free event is scheduled to take place Thursday from 11 a.m. to 1 p.m. outside the Memorial Student Center on the Weatherford Campus, and will feature area businesses, churches, student organizations/clubs and others.
SWOSU Dean of Students Joshua Engle said approximately 75 tables and booths have been reserved.
Because of the COVID-19 pandemic, SWOSU will expect masks to be worn and social distancing will be encouraged. The overall space of the fair is being expanded to provide more opportunity for social distancing.
Because of the popularity of the event, businesses are encouraged to bring their own tables and chairs if possible. Setup is from 9:30-11 a.m.
Officials say in case of inclement weather, the fair will be held at the Pioneer Cellular Event Center.