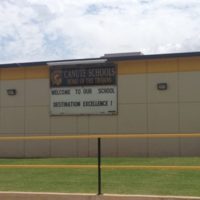 August 24, 2020
By News Director Jared Atha
Voters will be returning to the polls Tuesday.
Not a lot of elections locally however the Canute School District has two bond propositions that will be decided. If passed, proposition number one will provide $560,000 to be used towards the purchase of handicap accessible chair lifts, the construction of a handicap accessible restroom, and the purchase of an updated security intercom system and to update school vehicles.
Proposition number two will be for $440,000 and will be used to address transportation needs that include purchasing a handicap bus with a wheelchair lift.
In Custer County a runoff primary election will take place for the District 2 County Commissioner seat between Carl Bailey and Bruce Lane Walker.
Polls open Tuesday from 7 a.m. to 7 p.m.
Officials remind that a valid proof of identity is required to vote.