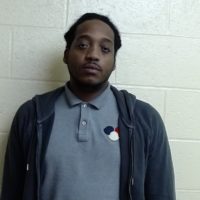 August 21, 2020
By News Director Jared Atha
A Virginia man was arrested in Elk City after being found with a large amount of marijuana in his vehicle.
According to a probable cause affidavit, 23-year-old Karon Hykiem Shatek Turner of Hampton, Virginia was pulled over early Thursday morning after an Elk City Officer clocked him going 80 mph in a 55 mph work zone near the 39 mile marker on Interstate 40. When questioned about his whereabouts, Turner would tell the officer that he was returning from a quick trip to Las Vegas, and that the car was a rental. He told the officer that he did not rent the car and did not have the rental agreement with him. Turner also told the officer that he could not find his drivers license. The officer noticed that the vehicle had a large amount of luggage, and noted that it seemed unusual to have that much luggage for one person.
While talking to the suspect the officer would report that Turner appeared to be very nervous, appeared to be hot, and had a rapid heart rate along with labored breathing. After a search of the vehicle the officer would find 39 vacuum sealed bundles of marijuana that would weigh 83 pounds.
While arresting Turner, the report said that the suspect would pass out but would quickly recover before being booked into the Elk City Jail.
Anticipated charges for Turner include trafficking 25 pounds or more of marijuana.