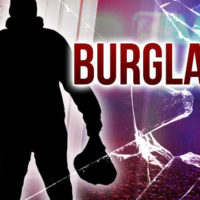 August 21, 2020
By News Director Jared Atha
A Clinton man faces a felony charge of first-degree burglary after he allegedly broke into his brother's home and assaulted him.
According to a probable cause affidavit, the incident took place on August 8, when police were dispatched to a possible burglary in progress. When officers arrived, the victim told police that his brother, 47-year-old Rollie Calvin Smith III, had allegedly kicked in his rear door and assaulted him.
A little bit later an officer located Smith based on the description of the truck his brother had told police. While executing a traffic stop, the officer observed a beer can thrown out of the passenger side window.
The affidavit said that when Smith exited the truck, he appeared to be uneasy on his feet, had red watery eyes, slurred speech, and had a strong odor of intoxicating beverage about him.
The officer attempted to perform various field sobriety tests but reported that the suspect could not complete them. Smith was arrested and booked into the Clinton City Jail.
He was charged with first-degree burglary and driving a motor vehicle while under the influence of alcohol.
Smith's first court date is scheduled for August 31.