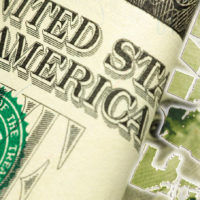 August 20, 2020
By News Director Jared Atha
A Cordell man was arrested after a traffic stop led to the discovery of a stolen truck and counterfeit money.
According to a probable cause affidavit, Smokey Levi Ogle was arrested in the evening of August 7 after a Cordell Police Officer pulled him over after observing one of the truck's headlight was out. After the officer requested a drivers license from Ogle, he informed the officer that it was suspended. However Ogle did provide the vehicles insurance information, which matched the model, make, and VIN number for the truck, but when the officer ran the tag number, the color of the truck did not match the color that dispatch had relayed to him.
At this time, Ogle was arrested for driving with a suspended license and booked into the Washita County Jail.
During an investigation, the report said that the officer found that the VIN number located in the dash had allegedly been tampered with, and was obscured from vision. When attempting to locate the secondary VIN number located inside the driver's side door, the officer noticed that it appeared to be smudged, and could see there was an underlying outline of a sticker that had been there before, but was able to make out the number and relay it to dispatch. Once again, dispatch informed the officer that the color of the truck with the VIN number did not match the color of the truck that the officer was inspecting. The officer noted that it appeared that the truck had been recently painted due to the discovery of streak marks found on the interior of the door.
Once the officer had the truck towed, a computer reader was used to verify the truck's actual VIN number. Once obtained it was discovered that the truck in question was reported stolen out of Tecumseh, Oklahoma.
After a search of the truck, the officer found $360 worth of counterfeit money in a wallet, along with what appeared to be a fake I.D.
Ogle was charged last week with, among other things, unauthorized use of a vehicle, malicious injury to property over $1,000, and possession of a false identification card.
Ogle's next court appearance in Washita County District Court is scheduled for September 14.