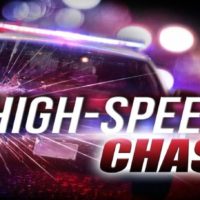 August 19, 2020
By News Director Jared Atha
A Hydro man led Clinton police on a high speed chase recently that saw an officer get hit by the suspects car.
According to a probable cause affidavit, 22-year-old Stacy Don Wilson Kidd was pulled over for speeding on the night of August 11 on Route 66 on the east side of the city. The officer noted that Kidd was acting nervous during the stop and had allegedly attempted to reach for something under the seat. When asked to exit the vehicle, Kidd refused, rolled up his window and attempted to drive away. Another Clinton officer attempted to take the keys out of the ignition from the passenger's side of the suspect's vehicle, that's when Kidd allegedly put the car into drive and drove away, clipping the officer in the process.
The report said that police gave chase and saw speeds reach up to and over 100 mph. The suspect's car was disabled by the Oklahoma Highway Patrol at an exit in Weatherford, however Kidd exited the vehicle and attempted to take off on foot. Police were able to catch up with Kidd a short time later and arrest him.
Kidd was charged in Custer County District Court last week with, among other things, endangering others while eluding or attempting to elude a police officer, assault and battery on a police officer, and leaving the scene of an accident involving injury.
Kidd's next court date is scheduled for September 2, while a preliminary hearing conference is scheduled for September 25.