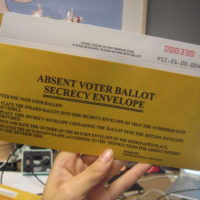 August 17, 2020
By News Director Jared Atha
Voters in western Oklahoma will be returning to prescients throughout the area on August 25 but time is running out to submit a request for an Absentee Ballot.
According to election officials, if a voter would like an absentee ballot they have until Tuesday, August 18 at 5 p.m. to submit an application. Applications can be downloaded at ok.gov/elections or be obtained at county election board offices. Officials say the application must be in the board office, submitted online, faxed, or delivered in-person before the deadline.
Early voting for the Election will begin Thursday, August 20, from 8 a.m. until 6 p.m. at election board offices and will continue on Friday, August 21, from 8 a.m. until 6 p.m.
Officials remind that a valid proof of identity is required both for early voting and voting at the polling place.
Elections to be decided on August 25 include a special bond proposition for the Canute Public Schools, and a runoff primary election for Custer County Commissioner District 2 between Carl Bailey and Bruce Lane Walker.