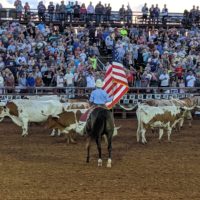 August 14, 2020
By News Director Jared Atha
The Elk City rodeo is still on.
According to Elk City rodeo board member John Thomas, the board met on more than one occasion to decide the fate of the 82nd Annual Elk City Rodeo of Champions and says the event will go on as planned with some adjustments on September 4 – 6. There was concern that the event could be canceled due to the ongoing pandemic.
Thomas did say due to other canceled rodeos throughout the nation the quality of competition at this year's event could be high.
Thomas also noted that the board anticipates up to 600 to 700 contestants at this year's rodeo. He also says the number of tickets being sold will be reduced this year.
Another annual event that was up in the air was the annual rodeo parade. Thomas says that too is still on, but will start at 10 a.m. on Saturday, September 5.