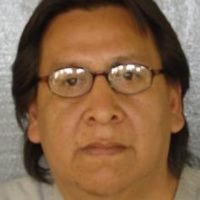 August 12, 2020
By News Director Jared Atha
A convicted killer from Hammon has been sentenced to life in federal prison.
56-year-old Tommy Dean Bullcoming was sentenced to life in prison without the possibility of parole on Monday for the killing of 55-year-old Linda Zotigh back in September 2017.
A press release issued by the U.S. Department of Justice stated that Zotigh was beat by Bullcoming in her Hammon home before her wrist and mouth were bound with duct tape. Bullcoming then drove her car out to tribal land and made the victim walk 50 yards from the road. That's when he stabbed her 48 times and slit her throat. It stated that he then drove her car back to her home and set the home on fire.
Volunteer firefighters from Hammon noticed fresh blood in the residence and a special agent from the Bureau of Indian Affairs found fresh blood on the headrest of the vehicle. Both samples would be tested and matched the victim and blood found on the dashboard matched Bullcoming's DNA.
Bullcoming was arrested by the BIA on September 8, 2017, in El Reno for failing to appear before the Tribal District Court for the Cheyenne and Arapaho Tribes in Concho on a charge of trafficking in controlled dangerous substances.
After being arrested, he was found to have scrapes and cuts on his arms, hands and legs, as well as blood on his belt and sandals. DNA analysis determined the blood on his sandals matched that of the victim.
A jury found Bullcoming guilty of first-degree murder, carjacking resulting in death, kidnapping resulting in death and arson of a dwelling in November of last year.
Citing Bullcoming's three prior convictions for violent crimes against women, the judge sentenced him to life imprisonment for both the murder and kidnapping charges and 25 years each for the carjacking and arson offenses.