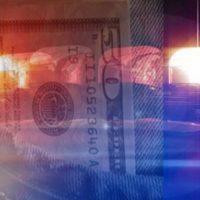 August 11, 2020
By News Director Jared Atha
An outstanding warrant has been issued for the arrest of a Weatherford woman accused of and charged with embezzlement after she allegedly spent over $92,000 of her mother's money.
According to a probable cause affidavit filed in Custer County District Court, 33-year-old Sharon Leah Adams Bartholdi was charged with the felony crime last week after an investigation revealed the misuse of her mother's funds between December 2016 and September 2019. The report says that Bartholdi became her mother's power of attorney in December 2016 and had control of her mother's bank account. During the investigation that was conducted by a detective with the Weatherford Police Department, it was discovered that charges to a cell phone company, a cruise line company, and a charge for a possible weight loss surgery were all made on the mother's account. It was also discovered that two large withdrawals, one for just over $27,000 and another for just over $28,000 were made. It stated that it was suspected that those withdrawals were used to purchase two vehicles at a local car dealership.
The affidavit also noted that Bartholdi has a criminal history of embezzlement.