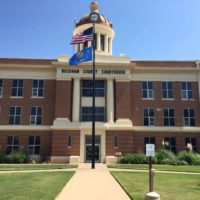 August 10, 2020
By News Director Jared Atha
After two weeks of being closed to the public due to a spike of COVID-19 cases, the Beckham County Courthouse in Sayre has reopened to the public.
District 1 County Commissioner Carl Don Campbell says the commissioners made the decision to reopen Monday during the regular meeting of the commissioners. He says although reopened, visitors will be required to wear a mask once they enter the building.
Campbell says although the public can re-enter the building, some offices will remain closed to the public but will do business over the phone.
The courthouse was initially closed to the public on July 22.