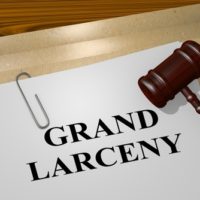 August 6, 2020
By News Director Jared Atha
A New Hampshire man has been charged in Washita County after he allegedly stole items from a California man's trailers.
According to a probable cause affidavit a Washita County Sheriff's Deputy was dispatched to a convenience store off of Interstate 40 near Foss on July 29 in reference to a possible theft that had taken place earlier in the morning. The deputy spoke with the victim and was told that lights were stolen from his transport trailer and other items were stolen from his travel trailer. In all, the total value of the missing items valued at just over $1,000.
During the interview the victim explained that he had spoke to other truck drivers that were parked in the parking lot and had determined that a group had been parked next to his trailer the night before. He was told that the group was working on a pickup, a box truck, and a large cargo trailer. The victim said that when attempting to talk to the group about the missing items, they were less than cooperative.
The report stated that the deputy met with the group, who were still in the parking lot, and determined that they were moving from New Hampshire to Arizona. The deputy said that the owner of the vehicles allowed the deputy to search them for the missing items, but one man allegedly confessed to the crime before the search began. 39-year-old Christopher Alan Miles told the deputy that the items were in the truck and said none of the other individuals in his group knew about the crime.
Miles was placed under arrest and booked into the Washita County Jail. He received a felony charge of grand larceny along with a charge of knowingly concealing stolen property.
A preliminary hearing for Miles has been scheduled for October 13.