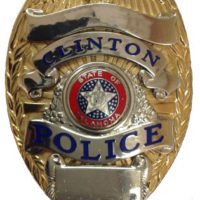 August 4, 2020
By News Director Jared Atha
A Clinton man was charged in Custer County District Court last week after he allegedly attempted to grab an officer's weapon, assaulted the officer and told the officer to kill him.
According to a probable cause affidavit, the incident happened in a Clinton motel parking lot on July 24, when police were dispatched to the business in reference to an indecent exposure. When the officer arrived, he found the suspect, 29-year-old Charles Edward Jones, wearing only boxer shorts and a shirt. While talking with Jones and securing the area, Jones would allegedly open the passenger door of another officer's car, jump halfway into the moving vehicle and yelled "Shoot me! Kill me!".
The report stated that when the car stopped, Jones would run around the vehicle and towards the officer in an aggressive manner. The officer would deploy his taser on the suspect, disabling him. However, while the officers were putting the vehicle in park, Jones would get up and attempt to grab the officer's gun. This caused another officer who had arrived on scene to assist to deploy his taser on the subject. The affidavit stated that while on the ground and being detained, Jones would try to reach for the officer's gun a second time, this time pulling it halfway out of his holster. The officer reported that he was able to gain control the weapon and secure it.
Jones was arrested and booked into the Clinton City Jail. He was formally charged with assault and battery on a police officer – a felony, last week. His next court date is scheduled for August 17.