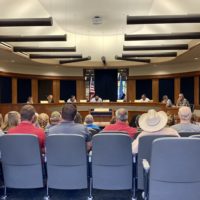 June 29, 2020
By News Director Jared Atha
The Elk City Commission met in special session Friday afternoon and approved the Prisoner Public Works Project Contract between the Oklahoma Department of Corrections and the City of Elk City.
Interim City Manager Tom Ivester says the commission heard from department heads and ultimately determined the city could utilize nine inmates for various work around the city.
Ivester says at one time the city had used as many as 50 inmates in the past.
The commission needed to meet in special session because the department of corrections needed an answer about the contract by July 1.