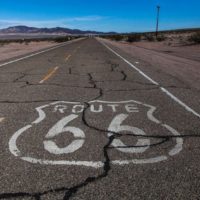 June 26, 2020
By News Director Jared Atha
Two Clinton men were transported to an Oklahoma City hospital after rolling a pickup on Route 66.
According to the Oklahoma Highway Patrol, the accident occurred Wednesday night when 21-year-old Dalen Paulsen was driving a 2004 Chevrolet Silverado on Route 66 east of Clinton when he lost control of the vehicle, departed the road to the right at a curve. The report stated that it then struck a barbed wire fence and rolled an undetermined amount of times before coming to rest on its wheels. During the wreck, Paulsen was ejected from the vehicle and had to be air lifted to OU Medical Center where he was admitted with leg injuries, last listed to be in stable condition.
A passenger, 20-year-old Hunter Lindsey was also transported to OU Medical Center where he was treated and released.
OHP lists the cause of the accident being "unsafe speed".