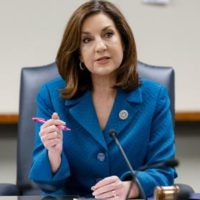 March 24, 2020
By News Director Jared Atha
State school Superintendent Joy Hofmeister announced Monday that she will propose a Continuous Learning Plan to the State Board of Education this week to complete the school year for Oklahoma students without reopening school buildings during the global COVID-19 pandemic.
The Oklahoma State Department of Education had prohibited remote learning during the two-week closure caused by the coronavirus outbreak because of feasibility and equity concerns, particularly for students with disabilities and those who may lack access to the internet.
But now as the new virus upends life across the nation, officials are reconsidering remote learning as the probability of closing schools beyond April 6.
While the education of school children would resume with distance learning under the plan Hofmeister plans to propose, there will not be traditional, in-person instruction or extracurricular activities, Hofmeister said in a Monday statement. Instead, the plan would follow critical safety guidance from the Centers for Disease Control and Prevention with regard to social distancing for students, staff and school families.
The State Board of Education will hold a special meeting on Wednesday, meeting virtually.
Hofmeister said the new approach is "far from ideal, but necessary."
Oklahoma education officials have been working with administrators to form a remote-learning plan to prepare for the likely extended school shutdown amid public health concerns spurred by the new coronavirus pandemic.
Earlier this month, the state's two largest universities, Oklahoma University and Oklahoma State, announced their transition to online classes as a precaution against the coronavirus. Southwestern Oklahoma State University with campuses in Weatherford and Sayre announced their transition to online classes as well.