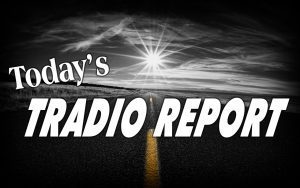 Tradio is heard every Monday through Friday from 10am – 11am and Saturdays from 8am – 9am. Callers can call or text 580-225-9697 to buy, sell, or trade during that time (limit three items per call please). When texting in an item please be short and descriptive and include a phone number. No pictures with texts please. Non commercial items only please. If you would like to advertise your business please call 580-225-9696
---
FOR SALE: 2 bedroom mobile home $1000 obo
580-419-0147
---
looking for a toilet
580-799-3878
---
FOR SALE: 99 harley davidson sportster
FOR SALE: 97 suzuki 750
405-952-7444
---
FOR SALE: 6 male chocolate lab puppies
580-878-0061
---
FOR SALE: shot gun shell roloaders $160
FOR SALE: women's schwin bicycle $75
580-919-7169
---
FOR SALE: 01 harley ultra classic w/ extras $6,000 obo
580-210-8837
---
FOR SALE: brand new humidifier – hardly used $40
580-660-1280
---
FOR SALE: chin up bar $20
FOR SALE: citrus juicer $25
FOR SALE: portable charcoal grill $25
580-243-8364
---
FOR SALE: 50 cal black powder w/ scope
FOR SALE: compound bow
821-4671
---
FOR SALE: 40′ shipping container
580-729-8017
---
FOR SALE: smoker grill $75
580-303-1704
---
FOR SALE: stuff in a large building @ 600 east roger miller – erick
tues – fri
580-210-0148 405-503-1428
---
FOR SALE: .22 bolt action rifle $75 obo
looking for work
580-393-1105
---
FOR SALE: 98 peter built
FOR SALE: 2000 grain trailer
FOR SALE: hobbs semi trailer
580-761-1810
---
FOR SALE: oliver 770 tractor
FOR SALE: generator 7500 watt
FOR SALE: 11′ springtooth
580-214-0597
---
FOR SALE: left handed compound bow $300 obo
FOR SALE: solar fence charger $125
FOR SALE: john deere tractor canopy $100 obo
580-339-4033
---
FOR SALE: 3 liters of great dane puppies
looking for some wood working equipment
580-816-0469 806-336-9889
---
FOR SALE: 2 ruger 10-22 mags
580-330-1196
---
farmers market @ old sonic in sayre
tue – 5pm
---
FOR SALE: window unit ac – 24,000 btu – 220 volt
661-1126
---
FOR SALE: dryer $100 obo
580-799-7900
---
lost side panel off a tractor near retrop
660-1537
---
looking for a cheap pump shotgun
405-833-6493
---
yard work / clean homes
339-2192
---
FOR SALE: compound bow $500
580-660-5737
---
FOR SALE: fan motors
FOR SALE: tools
FOR SALE: tarps
580-303-0477
---
FOR SALE: john deere wheat drills
706-0150
---
FOR SALE: claw foot bathtub $100 obo
FOR SALE: long sinks $100 obo
FOR SALE: sewing machine $50
580-254-9842
From the Sugar Creek Casino Text Line
P275/65R18 tires and rims. 6 hole bolt pattern. Came off of a 2016 Ford F-150 4-wheel drive asking $400 call or text. 580-821-0435
---
2006 Honda rancher 400 4×4 New front tires, New battery, $2500
1999 3/4 ton dodge diesel 4×4, hay bed, cake feeder. Bad motor $2500 OBO
580-567-0098
---
looking for drywall work in cheyenne call 580 878 0248
---
Arnett ranch rodeo. September 13 & 14. Doctoring, branding, stray gathering and wild cow milking. Open ranch broncs. To enter 580 383 7666. Check out Ellis County Fair Association on Facebook for more info
---
130 Bales Haygrazer
$50/each Wheeler,Tx
8066627487
---
We have small straw bales for sale. $5 each, and perfect for fall decor, animal bedding, garden mulch, etc.
Located at Bessie. Call or text 5806601112 for more info and directions!
---
I got a set of 24 inch rims came off a 98 Chevy but it's a universal 5 lug I'm asking 200 obo get ahold of me at 580 374 8218
---
Would like to buy a good used set of DewEze Bale Bed Risers & Spinners (580-243-8150)
---
Mac Tools creeper $50
Knight .50 cal Muzzleloader w/scope wanting to trade for
.17 HMR
Two 17 round mags for Glock 17 Gen 4 $20 a piece
Text 580-799-3361
---
Sept.11 need 2 strong able bodied men to move house hold furniture will pay 15.00 dollars cash per hour local move Elk City please call me at 580-303-1679 for details!
---
15 black bred heifers. 1/2 black angus and 1/2 red angus. 15 miles south of elk city. October 1st delivery bred to proven red angus bull. 1400$ hd.
580-450-0658
---
Fresh okra for sale in elk City call 580 374 2583
---
For sale 1994 24 ft Lowe Pontoon with 115 hp even rude motor good seats Good condition can send pictures. $4800 OBO call 580-334-4140
---
For sale
Southern blue
Rye seed
.16 cents a lb.
license #
08011570
580-243
8610
---
Looking to buy Thompson contender barrels 5807291318