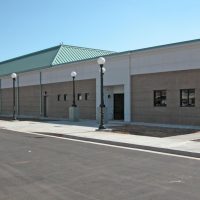 August 29th, 2019
By Jared Atha
An inmate of the Beckham County Jail has had additional charges filed against him after he, along with others, allegedly assaulted a fellow inmate.
According to a probable cause affidavit, the incident took place in early July when guards observed on security cameras an inmate enter a cell then quickly exit the cell. While he was walking down the stairs another inmate kicked him. At that same time, the affidavit noted that several inmates would enter and exit the cell, including 30 year old Preston Leroy Williams II.
At a later time, during an interview with the inmate that was kicked, he stated that he witnessed an inmate being assaulted. He said that the inmate was punched in the face and that other inmates were about to "stomp him out".
After the incident the inmate was transported to Great Plains Regional Medical Center where he received treatment for a lumbar transverse process fracture, nasal bone fracture, multiple contusions, and an eyebrow laceration.
When he returned to the jail, he was interviewed about the incident. The victim refused to give any names of who had allegedly abused him, but did say there were about 7 inmates involved. After reviewing the film, Williams along with 6 other inmates were scene entering and exiting the victim's cell.
Williams was charged with aggravated assault and battery and conspiracy, and tagged with a $50,000 bond.
A conference hearing for Williams has been scheduled from September 9th.