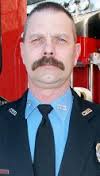 July 8, 2016
By Paul Joseph, Paragon Communications News Director –
The City of Clinton has promoted from within choosing an eight-year veteran as its newest fire chief.
According to the Clinton Daily News, City Manager Mark Skiles announced Thursday the selection of 55-year-old Forrest Valentine as fire chief, effective Monday.
In a statement, Skiles said the search has been thorough and legitimate and that Skiles looks forward to the difference Valentine is going to make.  He's currently serving as a Lieutenant at the Clinton Fire Department.
The city took some minor criticism a year ago for picking a Danny Cox, viewed as an outsider, who left in December after only four months as chief. Cox was the Sulphur fire marshal and building inspector.  Before that, he had worked with the Sulphur Fire Department for 12 years starting as a volunteer.
Besides eight years as a full-time firefighter, Valentine was a volunteer for eight years with the Butler Fire Department and served six months as a volunteer at Clinton.
Coincidently, the City of Clinton approved a new contract with the union representing the Clinton firefighters after a 21-month delay from when the department voted to unionize. Valentine served as a member of the union's four-man negotiating team.
Valentine says his goals include making the fire department much more visible in the community. He and his wife Kathy have lived in Clinton since 2008.  Kathy Valentine is employed by the Office of the Oklahoma Chief Medical Examiner.
Assistant Fire Chief Barry DeHart has been serving as interim chief.
–            30              –