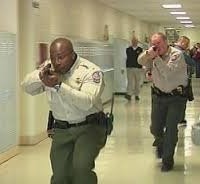 October 6, 2015
By Paul Joseph, Paragon News Director –
Western Elk City will be the sight of a simulated school safety drill Wednesday afternoon as 75 to 100 safety professionals come together for a facilitated drama from which to learn.  The event is designed to look and sound real in order to teach participants how to react in case they're involved in a real school shooting.
Elk City Police Chief Eddie Holland is warning the public that the simulated incident will look like the real-deal, but it's not.
The simulated school shooting Wednesday afternoon is part of a seminar held at the Western Tech Center as the safety professionals from all across the state of Oklahoma participate in three days of safety training.
Holland says the career tech safety conference will start at 2 pm with the simulated school shooting and passersby will obviously think it's a serious event happening before their eyes because it's designed to look that way.
The chief says the drill will last only about an hour and a half but other emergency training activities at the tech center designed to teach the attendees may lead people to believe it's lasting a little longer.
Holland says the safety conference attendees are individuals involved with campus safety from other parts of the state.
The Elk City campus of Western Tech Center officially opened in November of 2014 and is primarily used for Fire Training, Emergency Medical Services Training, Law Enforcement Training, Safety and Industrial Services training.
–     30     –