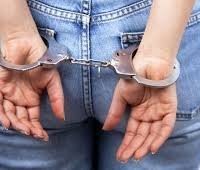 October 5, 2015
By Paul Joseph, Paragon News Director –
A Sayre woman has been charged with two counts of assault and battery with a dangerous weapon for allegedly attempting to injure a man with her car and then stab him.
The man turns out to be the boyfriend of the woman's ex-daughter-in-law.
61-year-old Sheila Grace Pettitt bonded out of jail on a $10-thousand dollar bond on September 13 following the alleged incident two days prior.
According to a probable cause affidavit, police believe the incident occurred at a rural Beckham County residence when Pettitt was attempting to pick up her ex-step children at the man's residence.
The victim told deputies that Pettitt tried to hit him with the front of her Lincoln MKS as she pulled into his driveway hitting him in the led as he "dodged around her bumper."  He says she then got out of the car, met him at his front door where he told her to leave his property again.
She allegedly opened a pocket knife and attempted to stab him in the neck, but he deflected the knife and she ended up on the ground.  The man told deputies she then pulled out a semi-automatic handgun while getting back inside her car.  At that point the victim retrieved a shotgun from inside his house and Pettitt left.
Later at an area police department where Pettitt gave a statement, she admitted to the deputy that she'd lost her temper and accidently hit what she believed to be a truck on the victim's property as she was leaving.  She said she pulled the knife to defend herself but she didn't pull a pistol.
Deputies looked but couldn't find a hand gun during a search of her car.
The victim was uninjured in the alleged incident.
Besides being charged with the two counts of battery, she's also charged with malicious injury to property over $1-thousand dollars.
Her preliminary hearing is set for December 1 inside Beckham County District Court.
–     30     –