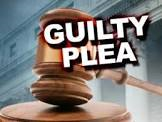 October 2, 2015
By Paul Joseph, Paragon News Director –
An Elk City man has pleaded guilty to drug charges and been sentenced.
38-year-old Lyle Henry Hottle was pulled over by Elk City Police for running a stop sign.  After pulling him over, the officer found drugs in his car.
According to a police report, Hottle was east bound on West 7th street about 10:30 on the night of April 19, 2015 when he failed to come to a complete stop.  He told the officer he didn't have his driver's license with him but his license was out of Pennsylvania, though dispatch couldn't confirm any license in either Pennsylvania or Oklahoma.
After he was arrested, officers inventoried his red pickup and found several pieces of drug evidence.  Located inside a compartment in the ceiling, officers found a syringe.  In a glove box, the officer found a glass container with a baggie with a crystal like substance believed to be Methamphetamine.  Additionally, the officer found 2 more baggies, a red scoop and a glass container with what the officer believed to be marijuana.
After booking Hottle into jail, field test results showed that the white crystal-like substance provided positive results for meth and the green leafy substance tested positive for marijuana.
He pled guilty on September 9 in front of District Judge Doug Haught who gave him a five year deferred sentence on the first count of possession of a controlled, dangerous substance.  Hottle received a one year suspended sentence on the second count of possession and a year suspended on a possession of paraphernalia charge plus court costs on all charges.
His probation will be supervised through the Department of Corrections.
–     30     –