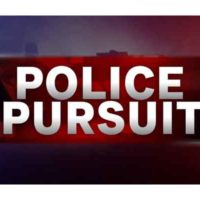 October 15, 2020
By News Director Jared Atha
A Thomas man was arrested earlier this week after being charged with eluding police on an ATV.
According to court documents, 36-year-old Logan David Palmer was arrested on Tuesday for the crime that he committed on September 19.
A probable cause affidavit revealed that Palmer was approached by a Custer County Sheriff's Deputy when he noticed that the defendant was parked in the street. The deputy noted that he recognized Palmer from prior calls and had dispatch check to see if he had any outstanding warrants. When dispatch advised the deputy that there was indeed an active warrant for Palmer, he got back on the ATV and left the scene.
The deputy would pursue, and would see the suspect run a stop sign and cut through a field. Eventually the deputy would lose sight of Palmer, however was able to positively identify him.
A warrant for the eluding charge was filed on October 8 in Custer County District Court. After his arrest on Tuesday, Palmer was also charged with failure to stop at a stop sign, resisting an officer, and obstructing an officer.
Palmer's first court date is scheduled for October 21.