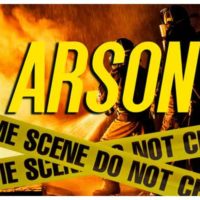 October 14, 2020
By News Director Jared Atha
An arson investigation that began nearly three years ago has landed a Sayre man multiple felony charges.
According to a probable cause affidavit, the home located near Sayre was allegedly set on fire by 43-year-old Tony Dean Pierce on November 27, 2017 after being in a dispute with the homeowner. Pierce was arrested for a separate crime back in June and is currently being held at the Beckham County Jail.
The arson case came back to Beckham County deputies attention when the ex-wife of Pierce had come to the Sheriff's Department with information regarding the case.
She would tell officials that on the day of the fire, Pierce had awoken early in the morning, left the home, and would return telling the woman to get in the vehicle. When she did, she would tell investigators that she could see multiple firearms, a crossbow, and other items in the bed of the truck. She said that the couple would drive by a burning home and Pierce allegedly said "the next person that snitches, I'll erase their entire genetic code".
She would go on to tell the deputies that the two had gone to a home in Foss to store the items that were in the back of the truck.
The deputies were able to recoup most of the firearms and other items and return them to the owner.
The court document would say that during an interview with Pierce, he would confess in a written statement that he went to the home, gained access to the home through the backdoor by prying it open with a crowbar, and would take multiple items including firearms and a crossbow. The statement would say that he then pour a small line of gas throughout the home and out the backdoor, where he would proceed to light it.
Pierce would tell investigators the disagreement between him and the homeowner stems from a hunting dispute on the land that the home sat on.
Pierce was charged in Beckham County District Court on October 5 with first degree arson, burglary in the second degree, possession of a firearm after a former felony conviction, and knowingly concealing stolen property.