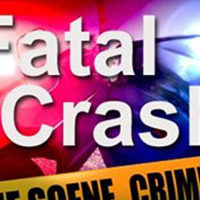 September 14, 2020
By News Director Jared Atha
A search for a missing Hollis man ended tragically in Beckham County Saturday morning when the man was found to be a victim of a fatal car crash that had apparently occurred shortly after he went missing.
Sheriff Derek Manning said a woman called the Sheriff's Office Saturday morning and told dispatchers that her brother, 56-year-old Ricky Dwayne Thompkins, had been reported missing in Harmon County earlier in the week and the family had just had his phone pinged which showed the phone to be in western Beckham County near a location between Erick and Texola.
Manning said deputies turned the scene over to the Oklahoma Highway Patrol, and troopers identified the two men in the crash as Thompkins, who was the front seat passenger, and 58-year-old Jimmy Darrell Brandon of Shamrock, Texas. Brandon was the driver of the vehicle and the registered owner. Manning said the OHP listed the time of the crash as sometime Thursday morning, although it is difficult to pin down the exact time.
Manning says it appears the incident was an accident, and there was no sign of foul play.