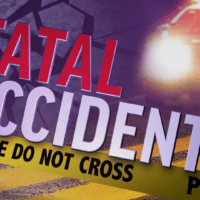 July 27, 2020
By News Director Jared Atha
A 14-year-old Reydon girl lost her life Monday after being involved in a one vehicle accident in Roger Mills County.
According to the Oklahoma Highway Patrol, a 2003 GMC Yukon with three occupants was traveling westbound on State Highway 47, when for an unknown reason entered a left curve and traveled off the right edge of the roadway. The driver overcorrected back to the roadway, lost control and entered into a broad slide. The vehicle departed the roadway into the west ditch where the vehicle began to overturn and then struck a tree.
OHP says the driver, 35-year-old Danielle Holman of Reydon was transported to Roger Mills Memorial Hospital and later transferred to St. Anthony's in Oklahoma City with head injuries, last listed to be in stable condition.
A 16-year-old male passenger was treated and released from the hospital however the 14-year-old girl was pronounced dead due to her injuries.
The OHP report said the cause of the collision is still under investigation.