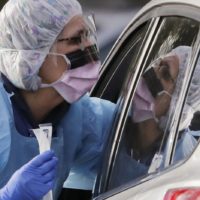 June 26, 2020
By News Director Jared Atha
Two counties in the area are up a case, while one county is down a case of COVID-19.
According to the Oklahoma State Department of Health's daily report Custer and Jackson Counties each saw an additional case of the coronavirus emerge. Custer County now has 11 active cases while Jackson County has six active cases.
Beckham County saw one of its active cases recover, dropping the county's total number of active cases to three. Greer and Washita Counties went unchanged with their numbers when compared to Thursday. Greer County has two active cases while Washita still has just one.
Statewide there was only an additional 83 active cases added on Friday, bringing the state's number of active cases to 3,149.
31 more Oklahomans were hospitalized due to the virus. Currently there are 308 hospitalized due to the virus.
Health officials are reporting two additional deaths due to COVID-19. The state's death count is now at 377.
When asked Thursday during a press conference if the idea of reinstating some business closures due to the increase number of cases in the state, Oklahoma Governor Kevin Stitt said it is "absolutely not" part of discussions he's having.
For most people, the virus causes mild or moderate symptoms that clear up within weeks. But for others, especially older adults and people with existing health problems, the highly virus can cause severe symptoms and be fatal.