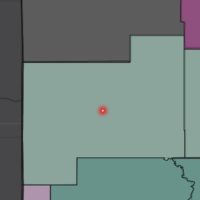 June 24, 2020
By News Director Jared Atha
Elk City's number of active cases of COVID-19 is now at four.
According to the Oklahoma State Department of Health's daily report, all of Beckham County's cases of the virus reside inside the Elk City city limits. It is an additional two cases when compared Tuesday.
Elsewhere in the area, Custer County saw two cases recover leaving the county with nine active cases. Jackson County remained the same with four active cases. Greer County has two and Washita County has one active case.
Oklahoma saw an additional 225 active cases added. The state's total active cases now stands at 2,769. There was one more additional death due to COVID-19 reported. 372 Oklahomans have died due to COVID-19.
Hospitalizations due to the virus remain low at 268. An increase of three when compared to Tuesday.
For most people, the virus causes mild or moderate symptoms that clear up within weeks. But for others, especially older adults and people with existing health problems, the highly contagious virus can cause severe symptoms and be fatal.
According to Oklahoma State Department of Health District Five officials, a drive through COVID-19 testing site will take place tomorrow at the Western Technology Center in Hobart. The event will take place between 9:00 a.m. and 11:00 a.m. and is open to the public.