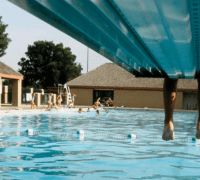 May 22, 2020
By News Director Jared Atha
As local city buildings and facilities slowly re-open, the question remains for a lot of municipalities on whether or not to reopen city pools for the summer season.
It was announced in a press release this week that the Elk City Swimming Pool will open on June 3. Elk City City Manager Lee Litterell would confirm this at the latest city commissioners meeting.
Similar re-openings are taking place in Clinton as well. City Hall has already re-opened its doors, while the fitness center at Acme Park is scheduled to re-open on Monday. The Clinton Public Pool is scheduled to open on June 15.
However, in Cordell the city council has voted to keep the public pool closed according to city manager J.C. Moser.
Moser says the closing of the pool is indefinite and will not be re-visited by the city council at a later date.