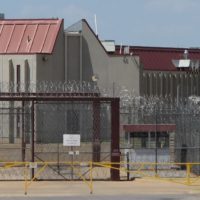 May 22, 2020
By News Director Jared Atha
After a COVID-19 outbreak inside the Comanche County Detention Center in Lawton, an agreement was signed that saw inmates who have tested negative for the virus transferred to North Fork Correctional Center in Sayre.
According to a press release from the Oklahoma Department of Corrections, the agreement between the Comanche County Facilities Authority, which oversees jail operations, and the Department of Corrections was signed Wednesday and saw 142 negative-testing male inmates transferred to an unoccupied unit at North Fork Correctional Center this week. The lone female inmate was transferred to Mabel Bassett Correctional Center in McLoud.
Department of Corrections staff will remain at the Comanche County Detention Center until June 10, helping manage infected inmates and disinfecting the building. County jail inmates housed in state facilities remain under the custody and control of the Comanche County Detention Center.