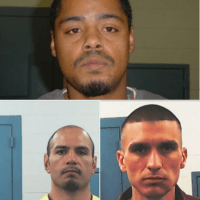 May 19, 2020
By News Director Jared Atha
Three men were arrested and charged in Jackson County last week after police along with the District III Drug and Violent Crimes Force, executed a search warrant at a home in the 300 block of East Liveoak in Altus.
According to Altus Police, investigators recovered a firearm, marijuana plants and what they believed to be heroin.
37-year-old Greggory Lopez, 34-year-old Antonio Lopez both from Altus, and 31-year-old Jason Banda of Dallas, Texas were taken into custody on charges of possession of a controlled and dangerous substance with intent to distribute and possession of a firearm after a former felony conviction.
Banda also faces charges of unauthorized use of a motor vehicle from Dallas County, Texas.
All three are set to appear in court on May 21.