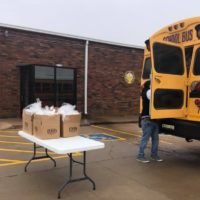 March 23, 2020
By News Director Jared Atha
With the state mandated closure of schools still in effect due to the COVID-19 pandemic, most schools in the area are getting creative with how meals are being distributed to students.
In Elk City the school district is offering free meals to children 18-years old or younger and to those with disabilities that are 21-year-old or younger. Elk City Public Schools has designated 10 stops in the community where these meals will be distributed Monday through Friday. The school has provided a map of where meals can be picked up on their Facebook page.
The Merritt school district has established four locations where students can pick up meals free meals. Those four locations include the parking lot behind the school cafeteria, Potter's Trailer Park, Merritt Mobile Home Park, and the Carter Fire Department.
Students in the Canute School District can pick up meals in front of the school cafeteria between 11 a.m. and 1 p.m.
In Sayre, the school district will have two locations where meals can be picked up. A drive-through service will be set up at Sayre Elementary while a walk-up service will take place at the Sayre First Baptist Church.