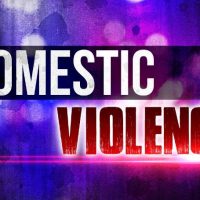 February 14, 2020
By News Director Jared Atha
A Thomas man was arrested recently after he allegedly attempted to strangle a woman.
According to a probable cause affidavit Thomas police were dispatched to a possible domestic disturbance at a home in the 200 block of North Main on the afternoon of February 6. When officers arrived they could hear arguing coming from inside the home. The affidavit stated that once they were able to get the male suspect, identified as 58-year-old Charles Burns, out of the home they were able to talk to a female who told police that Burns had become upset. She would tell police that Burns had allegedly punched her twice in the right leg around her knee. She stated that she threatened to call police however Burns prevented her from obtaining her phone to do so. The document went on to say Burns allegedly put both hands around her neck.
Burns was arrested and booked into the Custer County Jail. He was charged with domestic assault and battery by strangulation – a felony. His first court appearance is scheduled for February 28.